Douglas McDougall 'Between the System and the Sentiment - Works on Paper'
Douglas McDougall has an authentic and often solemn narrative buried within his well executed charcoal drawings. A small group of skilled artists share his medium of large scale charcoal works, including Jason Brooks and Robert Longo. However, McDougall has his own particular approach, with the piece evolving organically over many months of toil, rather then being driven by a single spectacular image. McDougall's imagery is not realistic though the detail is such that anyone may confuse his creations with hyper realism.
His own outward concerns and subconscious complexities become fused into a narrative which is neither straight-forward or easy to grasp in the first instance. Each image requires extended viewing before the psychological journey becomes apparent and the finished reality of the work can be acknowledged.
Gallery director Rufus Knight-Webb was introduced to McDougall in 2002 in London. The artist came to live with Rufus' family for a few months in order to help complete some housing renovations. McDougall managed to keep his intense charcoal drawings a secret throughout this period, and Knight-Webb only came to know about these remarkable works by accident a few years later.
Rufus describes McDougall as having many fears, observing that he worries about illness and death more than most people. This may partly explain the metaphor in 'Vascular Landscape' where the living flesh of the body is integrated seemingly with a serene rolling landscape. A quarry in woodland appears to be a growth or a scar, and within the landscape a mysterious sinkhole would seem to symbolize death, with the whole image flowing steadily towards and into this feature.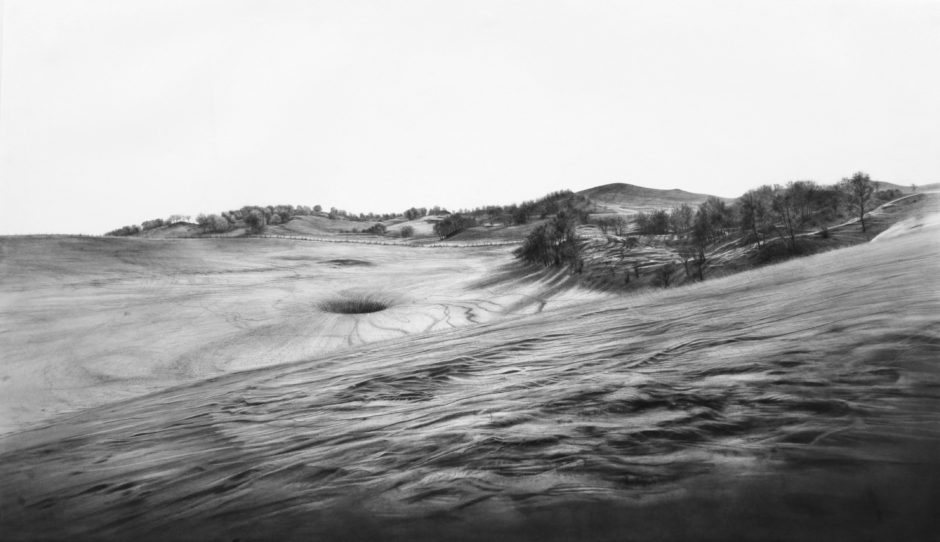 'Vascular Landscape' 2015  100 x 180 cm  Charcoal on Paper
('Vascular Landscape' is featured in the exhibition, and was displayed at our booth at London Art Fair '15 and Context New York this year. )
The deceptively congenial manner in which this harsh metaphor is presented is especially fascinating; outwardly the landscape appears almost pastoral, whose only obvious peculiarity is the mysterious sink hole. As the viewer tunes into the picture as a whole, the image comes into focus, with each blade of grass becoming a body hair, and each undulation of the field becomes a blood vessel.
Rufus observes that McDougall spends much of his time alone, and is difficult to fathom. He has a formidable system of defenses in place, which few people can penetrate, and speculates that McDougall actually needs to communicate through his works, what he cannot communicate in words. Each picture is a system of internal thought processes waiting for interpretation.
The work that shares the title of the exhibition 'Between the System and the Sentiment' features Theo, a man and muse McDougall periodically returned to over ten years. He is an outsider, has schizophrenia, and appears to have been left to the wind and rain, worn smooth like a stone. McDougall's work often incorporates aspects of humanity within nature, and nature within humanity. In this work we see Theo's beard curling seamlessly into a wave in a solemn and beautiful representation of this parallel.

'Between the System and the Sentiment'  2015  110 x 160 cm  Charcoal and Archival Print
McDougall's two most recent works 'How the West is Won' and 'Syria' take the structural remnants from 9/11 ground zero and re-position them in the scenic historic Scottish battlefields of Rannoch Moor and Glencoe. These works are a recent journey away from the artist's traditional focus on portraiture, whilst retaining his distinctive dark surreal style.
In 'How the West Is Won' the structural remnants of a collapsed building from Ground Zero appear to be returning to nature. The soft organic form appears as though years of erosion have softened the subject's inherent historical violence.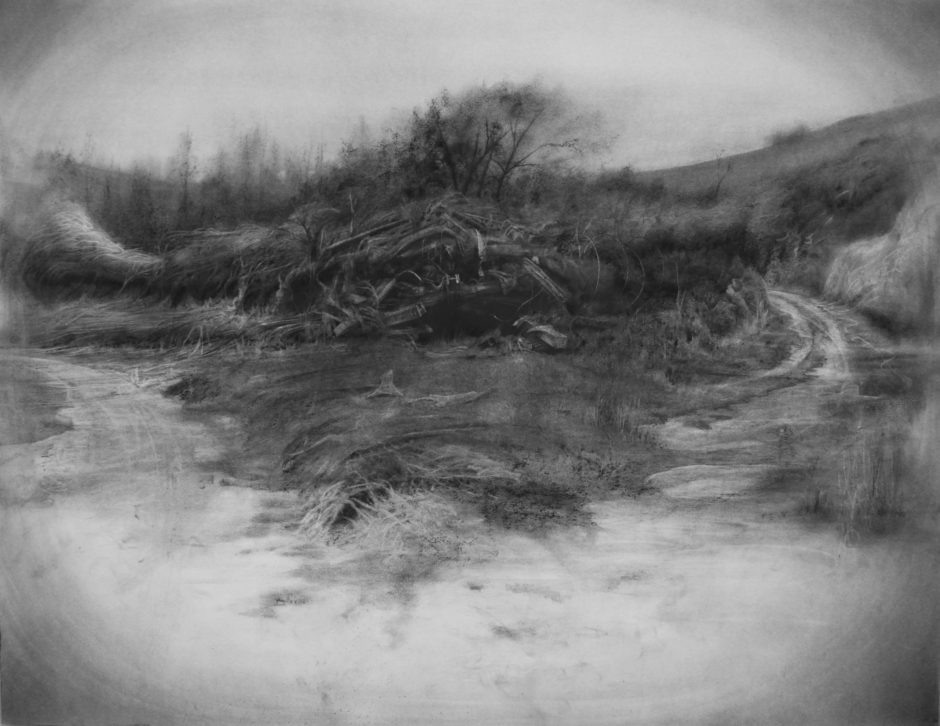 'Syria '  2016 80 x 140 cm  Charcoal on Paper
McDougall's experiences of life have created his dialogue. Rufus observes that from all of his conversations with the artist, McDougall cannot say that he actually enjoys creating the works. The artist's reasons for producing these images are unclear, and that is perhaps his greatest mystery.